Shop Online
Ordering Online is easy...
Select the Product Category
Our products are divided into Printing Catagories. You can choose one from our home page or "All Print Products" in the top menu.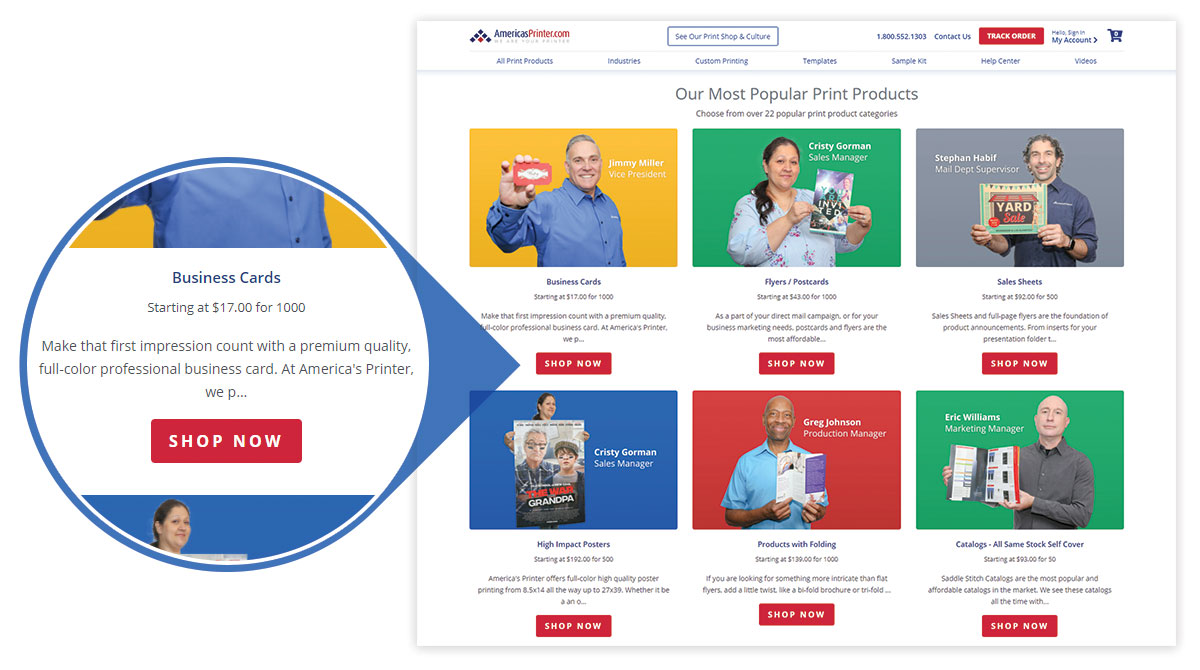 Select your Product
Browse our many offerings and choose the size and style that suits your needs best.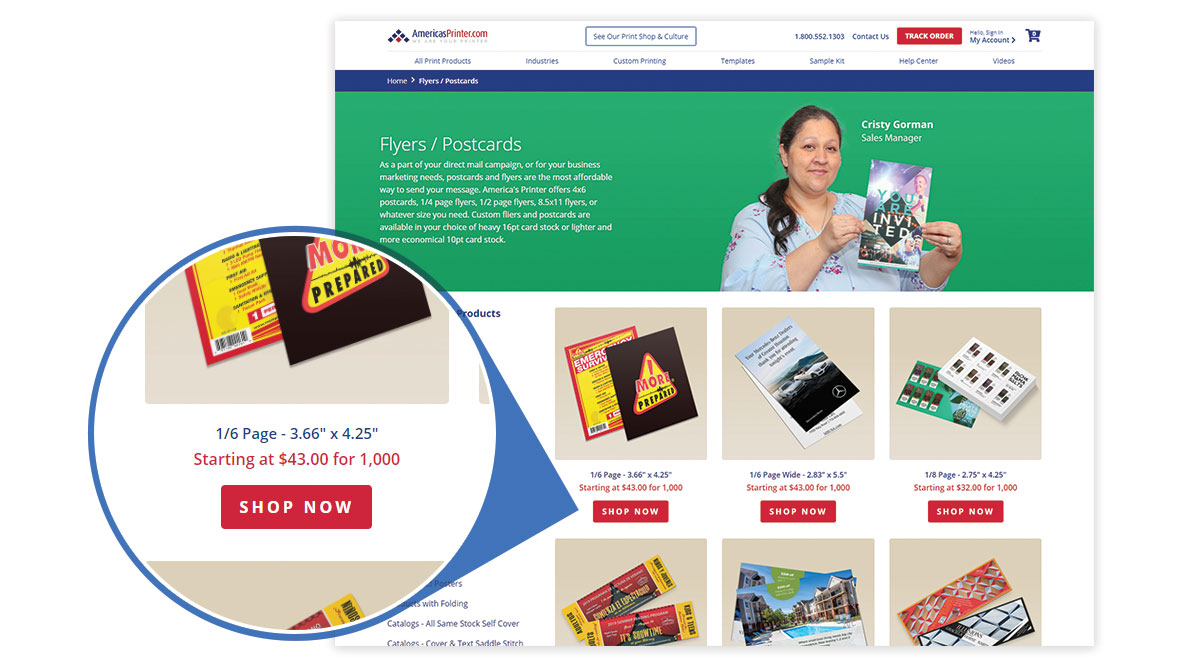 Select your Printing Options
Choose your paper type, color options, coatings, quantity and production time.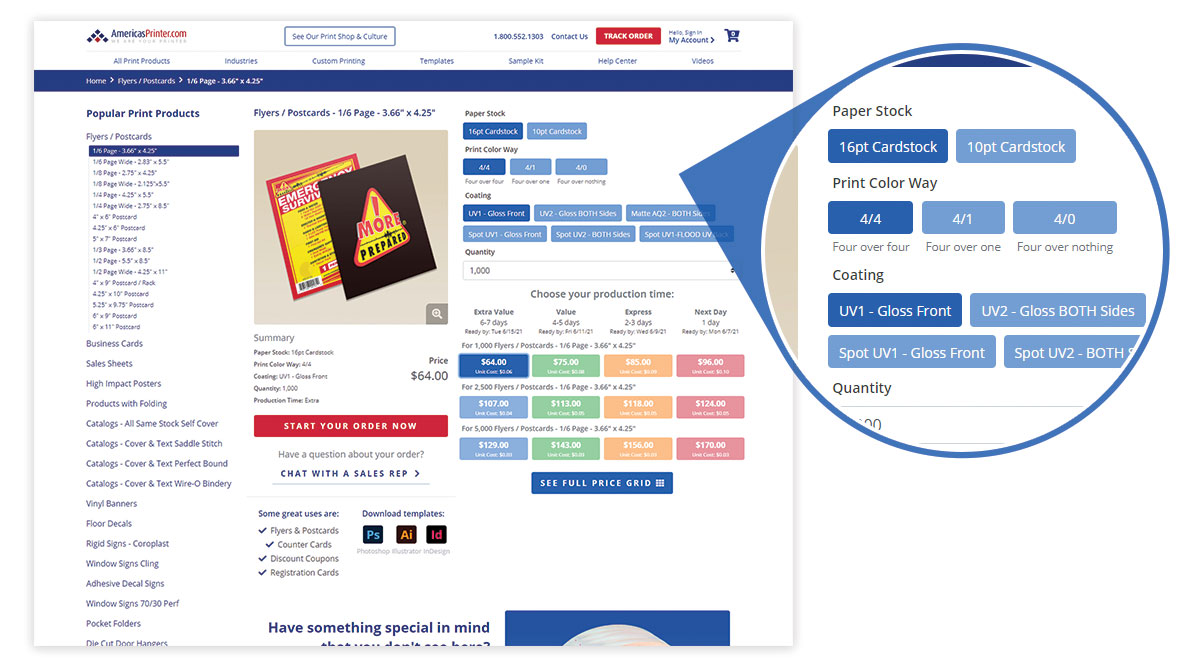 Personalize Your Products
You Can:
Add a Reference or PO#
Name Your Printing Product
Request Proofing Options
Add Printing Notes For Our Staff to Read
Upload Files or Mail to Us
Request Samples to be Mailed to You
Ship to Multiple Locations
Call Us
Give us a call. We will be happy to take your order.
Toll-Free
1 (800) 552-1303
Fax Us / Upload Files
1. Review the Price Guide
AmericasPrinter.com can handle any promotional print job you can think of. Our mission is to be your one stop promotional printing solution. We use the internet as our catalog and as an area to expose you to our capabilities. The Price Guide lists some of our cookie cutter products you will find in the store. However if you have a project that you do not see in this area give us a call. We would be happy to quote on anything from glow in the dark inks to metallic colors to complex die cutting.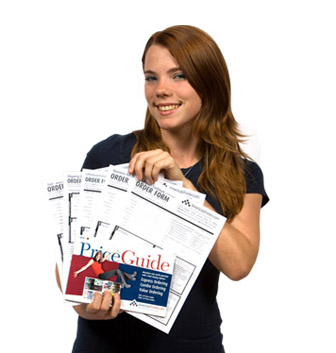 2. Download the Order Forms
Once you've wandered around the price guide and have a good idea of what you want to order, it's time to download the proper order form and send the digital files. We use Acrobat Reader® as the format for reviewing & printing our order forms. The file format for Acrobrat Reader® is PDF or "Portable Document Format".
Get Adobe Reader
3. Place order and fax
Complete the order and fax to our office at 714.521.5650. Be sure to include your Product choice, quantity, color ways and cost for each item ordered. In stating the "Job Name" it's important to note the main title or name as it appears on the printed product. The reason for this is when your job is printed and going to the cutting and finishing department, we need to identify your product on the press sheet.
4. Send Us Your Files
We Accept Mac and PC Files via:
We support the following formats:
Photoshop (.psd, .tiff, .eps, .pdf)
Illustrator (.eps, .ai, .pdf)
InDesign (.eps, .indd, .pdf)
Quark (.qxd, .eps, .pdf)
Freehand (.fh, .eps)
Publisher (eps)
Your files should meet the following criteria
300dpi (or higher)
CMYK Color
1/8" Bleed
All fonts converted to outlines or included
FTP Instructions:
Please upload a single compressed file (.sit / .zip / .gz) containing your job's files and a text file with a short description of your job. Name your compressed file using your company name and job name like so:
MyGraphicsCompany_MyJobName-4.25x5.5Flyer.sit
to ensure prompt processing of your files. Folders and uncompressed images, files and fonts will become corrupt and can not be uploaded without being compressed. If you do not have an FTP client we recommend Transmit for the Mac and WSFTP for the PC. The FTP login information is as follows:
host/server: ftp.americasprinter.com user: ftp password: your e-mail address directory (folder): /incoming
You can safely ignore the "denied" message
Web Uploader Instructions
Click this link and follow the instructions on the web uploader page. It is fast and easy to use. An Americasprinter.com representative will call you shortly after receipt of your fax. Payment arrangements will be discussed and a time table established to complete your order. Since this is your first time, a representative will discuss how we are receiving the files and put your job into production.
Call our Customer Service with questions @ 1.800.552.1303
TERMS AND CONDITIONS
Walk In
Come on over... We love showing off our print shop...
Our hours for walk-in ordering are Monday thru Friday 9:00am - 6:00pm
Centerally located in Southern California from all major freeways.
We also offer our clients:
Guided tours of our printing process.
Custom paper samples for those special print jobs.
Please call your APC rep for appointments and times.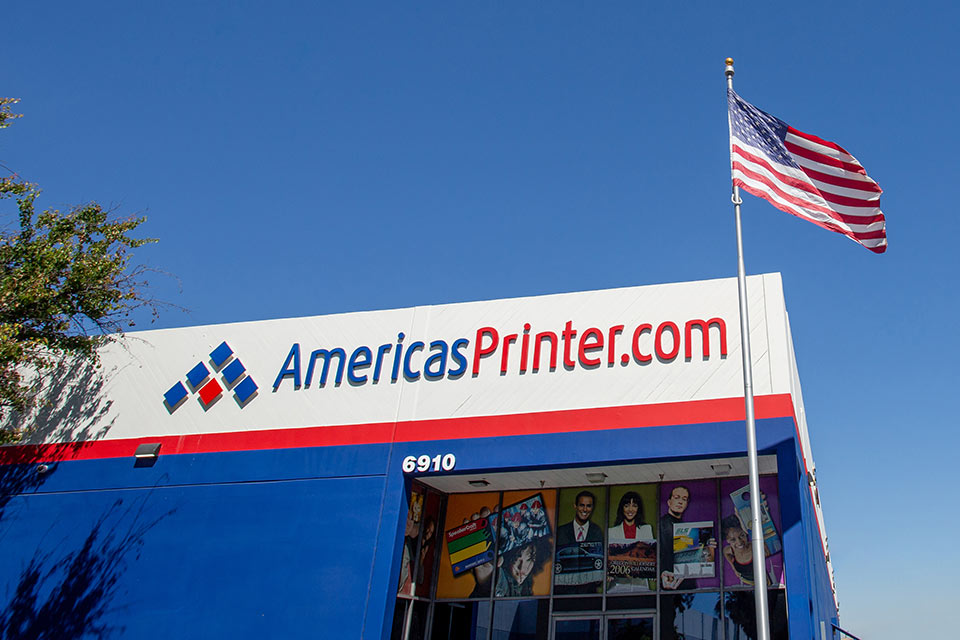 Puchase Order
From government agencies, hospitals, and universities to large corporations that have structured PO systems, AmericasPrinter can set up a credit account with you.
Download our credit application with terms and conditions below:
Download Application PDF
This process may take a few days to process and establish a PO system credit account. Talk to your APC rep if you need an item printed sooner.