Bleed is the intentional oversizing of a graphic to make sure when trimmed, there is no whitespace showing on the edges. As the design reaches all the way out past the edges a small amount of the design or background color is cut off on purpose.
All files require bleed. Business cards need .05" on all four sides. All other files need .125" on all four sides.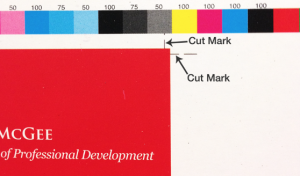 Example: an 8.5" x 11" design should be designed at 8.625" x 11.125". It gets printed at that size on the press sheet and then trimmed down to exactly 8.5"x11"